Grow your business by ranking higher on Google
Ranking in the top 3 search results produces a huge sales boost, improved brand awareness and the opportunity to rapidly scale your business.
The top 3 businesses earn 50% of total customers
Local SEO is perfect for small businesses like auto body shops, repair shops, dealerships, restaurants, and anywhere else that relies on local customers who make purchases on-site.
Google drives more traffic than all other sources combined
Google search generates more than 10x the traffic of social media! Over 90% of visitors never make it beyond Page 1.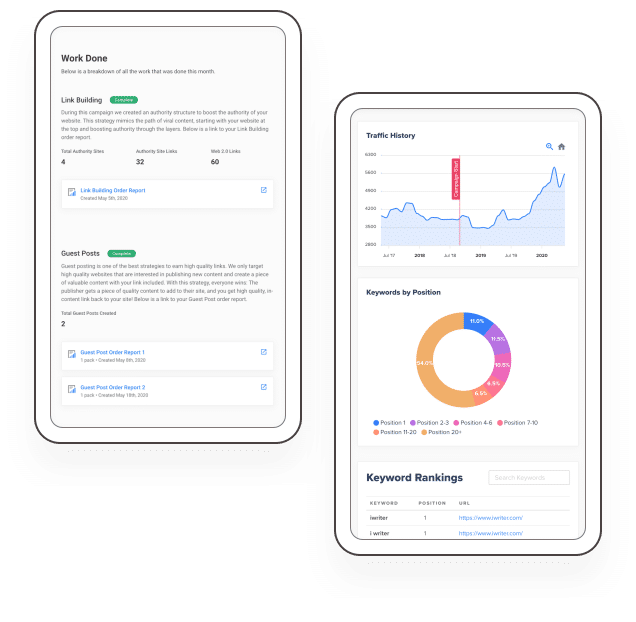 Know exactly what's happening with transparent reporting
Your very own dedicated SEO team
We've helped 100's of clients earn 1000's of Page One rankings. Get over a century of expertise at your service for a fraction of the cost of in-house employees.
See what real humans have to say about our proven SEO services.
Mary Kay M.
★★★★★
Chris and his team have been fantastic to work with! He's professional and wise. He has been great at navigating through a though IT environment to help us reach the goals we have for our website. His knowledge is unmatched and I can't recommend Moonraker enough!
Rojan A. S.
★★★★★
Without any agreement or cost, Chris helped me take back my Google business account and helped me set it up properly. He is very knowledgeable. Highly recommend!
Hannah T.
★★★★★
Chris' SEO skills are super effective. He linked me up with just the clientele base I needed. On top of that, he is super communicative, and personable, making him a joy and super easy to work with! I appreciate his ingenuity and creativity in making my business thrive. Big thanks to Chris and Moonraker!!!
Rocío R.
★★★★★
I have been able to spend time co-working and exchanging professional experiences with Chris for a month now. I admire his clarity, passion, and commitment to his partners. Always eager to help and enhance other professionals' careers. His focus is on getting results and at the same time adding value to the daily experience. What else can you ask for?
Sophie M.
★★★★★
Chris really knows his stuff! He cares deeply about his clients' success and works hard to get it done.
Amy S.
★★★★★
This service is even better than I expected. Chris is intuitive, accommodating and extremely competent. I highly recommend Moonraker for search engine optimization.
Karada D.
★★★★★
I have worked with so many web designers and system engineers in the past.. and I can say that Chris is really THE BEST!! Yes, my new website looks better, my clients are happy but what I want to share about Chris is that HE MAKES ME FEEL GOOD AND BETTER about my business!!He is really good at finding opportunities to make money that I didn't even see on my business! His marketing knowledge makes me super excited about growing my business. Also he is very patient with me even though I don't know much about building website or SEO. He always make sure that I understand everything what's going on with my website.I totally recommend you to work with him especially if you want to have full control over your website so you can update it whenever you need to! (Trust me.. you don't want to ask someone to update your website often. It's frustrating!)Thank you Chris! I'm so lucky to have you!!
Tracy S.
★★★★★
Chris is an SEO Pro! He can scale up or down on projects and brings his great mind and keen wit to any ask. He has a great network and team to pull in as-needed on any digital project too. Highly recommend.
Stephanie C.
★★★★★
Chris is an absolute pleasure to work with. He really dove in and got to know our business from the inside out. This knowledge translated into amazing reports with actionable insights. I look forward to continuing to work with him and his team.
Bambi R.
★★★★★
I have been working with Chris for over a year now, and I wanted to provide an update to my earlier review. I honestly think that Chris/Moonraker is the best choice that anyone could ever make for digital marketing. The specific services that I provide need to be targeted to a niche population and I know that I never would have been able to attract the clients that I have, in the volume that I have, without Chris' expertise. He designed my website from the ground up and is always taking things to the next level - constantly thinking creatively and being proactive. When you hire Chris it's like you have an entire team behind you providing support and guidance when needed. In addition, he is incredibly responsive and answers my texts and emails with alacrity. On top of it all, he is sweet and knowledgeable and a pleasure to work with! He really is amazing!
julie ann O.
★★★★★
Chris is an incredible, talented SEO wiz, and I love working with him. He took the time to really help me understand how we could drive business to my website as well as how to improve the usability of my site. After six months, I'm seeing a significant increase in traffic to connect with the people I really want to find me. I would especially recommend hiring Chris if you need SEO help that is affordable and you're just starting out. It has totally been worth the investment, and I'm looking forward to working with Chris as my business grows over the next year.
Eduardo P.
★★★★★
Having worked with Chris in the past I new he is a responsible professional but the website created for us was much better than what we expected. The look and feel, content, layout and pictures used creates synergies that amount to more than the value of each component. Will work with Chris on other projects as well. Recommended++
Hayley J.
★★★★★
Chris is Awesome!!! He met me right where I was and was so helpful. He built me a beautiful customized website and online shop. He worked well with other folks on my team and was unbelievably patient when progress on my end slowed. He was very good at knowing when to give me a gentle push back towards progress. He is kind and funny and creates a relaxed and enjoyable experience. It all felt so personal which was very important to me. I highly recommend!!!
Uroboros M.
★★★★★
Moonraker SEO Services was the best choice for web design and SEO services for our organization. Moonraker responded to our inquiries on Sunday mornings and 11 o'clock at night. They were conscientious and courteous. I am a satisfied customer, and I am happy to refer them to more clients!
Salim U.
★★★★★
I've used Moonraker for my company's website, and they aim to please! They are responsive and reliable. I would recommend anyone using their services. Moonraker's biggest strength is being able to internalize the needs, objectives and desires of their clients and regurgitate those values stylistically through curated content. I'm quite pleased with their service, and you'll be as well.
Matt K.
★★★★★
Myles W.
★★★★★
Chris took a data-driven approach to helping us get more traffic and convert more of those visitors into leads. Highly recommended!
Ross H.
★★★★★
Chris is a magician with this SEO stuff. I'm an older person completely baffled by technology; and I knew what I wanted in terms of marketing. I found myself talking to Chris about SEO services and he said all the right things so I said yes. Then he held my hand, walked and talked me through it and things began to happen. What I really like is that as a marketing consultant he figured out right away what I wanted. He made it all work; the way he organized the material and information was truly magical. Thank You Chris!
Bob B.
★★★★★
I won't pretend to understand how he does what he does, but Chris is a marketing and search engine optimization genius! He can help increase your customer base exponentially with his vast wealth of ideas to market your business. He is so brilliant and amazing at building and designing websites as well. I cannot recommend his services or speak highly enough of the quality of his work!
Laura R. B.
★★★★★
Chris is the best in the business! He is so knowledgeable and is always such a pleasure to work with. Go see him for all of your SEO needs!
John M.
★★★★★
Chris's SEO Services are top shelf. He is very creative and knowledgeable and his website update created more traffic, resulting in more business.
Alina's R.
★★★★★
Chris is fantastic to work with! He designed the online food ordering system for Alina's Ristorante from scratch.Ordering time was cut in HALF!This allowed us to cater to more clients and increased our sales.Chris's work can be summed up as follows:. He is professional. He is a great communicator. He offers customized solutions. His turnover time is very quick and efficientWe highly recommend Chris and look forward to working with him again in the future!
CHRISTINE C.
★★★★★
Chris has been a pleasure to work with. Went above and beyond in getting our website together! I cannot thank him enough. Call him, you will not be disappointed!
Steve B.
★★★★★
Chris is a Marketing & SEO Specialist! I highly recommend giving him a call if you have questions or need SEO Services. He is always friendly, easy to talk with and never pushy. A true gentleman. Thank you Chris!!
Matthew C.
★★★★★
You have to meet Chris to understand the power of what he is capable of doing to transform your business. From making your website look and run amazing while bringing you into present/future with new tech. He makes your visibility jump up dramatically in no time. I have so many good things I can say about Chris services, but I can't express it as well as he can. Do yourself a favor, take a meeting with Chris and your business will get better, period.
Book a free strategy call
We want you to feel confident in your decision to work with us. Let's have a conversation to discuss your needs and see how we can help you.